You will find info about where and when to meet, emergency contacts, what to bring, how to pack and much more.
Please go over these details and call or email Adan Romo if you have any further questions.
What is the best airport to arrive to?
The best airpot to fly into and out of is the Venice Marco Polo Airport. There are many major European cities that fly directly to Venice.
How to get from the airport to the hotel?
The Venice Marco Polo Airport (VCE) is located on the mainland about 13 km from Venice. There are numerous options available for getting to Venice, either by land or by boat, and the cost can vary greatly depending on which method of transportation you select.
Option 1 - Hotel Assistance The Santa Croce Hotel will be happy to organize a private transfer from the airport. The service is available 24/7. For a quote or to book the service, please contact the hotel directly and then confirm at least 48 hours before arrival.
Option 2 - Water Taxi The Water Taxi is the fastest but most expensive method of getting to Venice from the airport. A typical water taxi can run anywhere from 100 to 150 euro depending on exactly where you are going in Venice and the amount of luggage you have. If you have a large group this might be worth considering as you can split the fare. As with any taxi on land in Italy always negotiate a price before getting into the boat to avoid any surprises.
You can inquire about a water taxi at the taxi desk in the airport arrivals area and the water taxi pick-up is at the same pier as the water bus so make sure you don't get them confused. One of the biggest advantages of the water taxi is that they will take you to the closest spot possible to your accommodations so if you have a lot of luggage this can be advantageous.
Option 3 - Water Bus Alilaguna is the name of the company that operates the water buses that run between Marco Polo and Venice. This looks to be a neat alternative, but keep in mind that the trip will run for about an hour and fifteen minutes, which is longer than the land bus. But, if you have time before checking in this can be a fun and relaxing option. A one-way ticket will cost you 15 euro or a round trip ticket goes for 27 euro.
The Alilaguna water buses are easy to spot as they have bright yellow bottoms. There are three lines that go into Venice from the airport; the Red, Blue and Orange line. You want the Orange Line and get off at the Riva de Biasio stop.
Click her for map from Riva de Biasio stop to the Santa Croce Hotel.
Option 4 - Regular Bus ATVO express buses depart from Marco Polo Airport every thirty minutes and provide express non-stop service to Piazzale Roma. Tickets cost 8 euro and can be purchased upon arrival in the airport at the automatic ticket machines in the arrivals baggage area or at the ATVO ticket office located in the arrivals hall. The ticket machines in the baggage area do not always work so I would suggest going directly to the ticket office. There are also automatic ticket machines located outside of the terminal in the ATVO departure area where you will pick up the bus. If you are worried about purchasing a ticket at the airport you can always make the transaction on-line ahead of time. Keep in mind that the ATVO buses have underneath luggage compartments so you won't have to drag your luggage onto the bus.
Click here for map from Piazzale Roma to the Santa Croce Hotel.

Itinerary
Venice - October 15- 18
Lodging - Santa Croce Boutique Hotel
Veneto Countryside - October 18- 20
Lodging - Castello di Lispida
Venice - October 20 -23
Lodging - Palazzo Veneziano
Sights
Venice -
San Marco Square - St. Mark's Basilica - Campanile di San Marco - Grand Canal- Rialto Bridge- Santa Maria dei Frati Basilica- Jewish Ghetto - Fish Market- The Dorsoduro quarter - Traditional Venetian Mask Studio- Teatro La Fenice - The workshop of Luigi Bevilacqua
Veneto-
Antonio Canova Museum - Colli Euganei Wine Region - Visit Vignalta Winery - Prosecco Region and producers - Padua - Scrovegni Chapel and the Giotto Frescoes - Garden complex of Valsanzibio
Contact Information
Adan Romo (916) 505-5753 aromo@romostudios.com
Ed Roehr (916) 803-0508 ed@magpiecaterers.com
Payment Schedule
After the initial $1000 deposit, the remaining payment plan is as follows for each participant -
September 15, 2019 - $3,200
October 15, 2019 - $1,600
Credit Card payments visit - http://roamn.com/new-products
*Please make all checks payable to ROAMN LLC and sent to 2409 U Street Sacramento, CA
Passport
Double check your passport and make sure it is valid- TO BE VALID THE PASSPORT MUST BE VALID MORE THAN 6 MONTHS AFTER YOUR RETURN DATE.
Double check you have it before you leave your house for the airport.
Make copies (physical and electronic) of your passport and leave a copy with an emergency contact. Bring three copies with you on the trip.
I like to purchase a travel neck bag to keep my passport safe while I'm in the airport and getting to our hotel. You'd be surprised how easy it is to misplace your passport as we move from one place to the other.

Money?
Credit Cards, Debit Cards or Cash? There is no need to get euros before we leave. Debit cards with a pin are the best way to access money while in Italy - there are banks at every corner with good rates and it will keep us from having to carry wads of cash. Credit Cards are good as a back up or to purchase more expensive souvenirs\purchases. Refrain from bringing dollars with the expectation of exchanging them at an Italian bank - most banks have phased out exchanging dollars.
IMPORTANT - Notify your debit\credit card company that you will be traveling to Italy. If it is a new card please use it several times in the Unites States prior to leaving.
Cellphones
Check with your cellphone provider for the best rate plans for traveling in Italy. Each one is a bit different. Also be sure to download WhatsApp or Viber to be able to make free calls\texts while connected to the hotel internet.
what to pack?
My packing philosophy is simple: always pack light.
Getting the right luggage helps. The bigger your suitcase, the more you will put into it: The simplest way to avoid bringing too many things is to travel with a small tp mid-range suitcase or backpack. What you bring is what you carry. Believe me when I say that I have never heard a former traveler say "Adan this was a trip of a lifetime….. but I wish I brought more clothes and shoes".
If you do choose to travel with a travel bag or backpack make sure it is comfortable to carry with all of your clothing and travel items.
Packing Suggestions
This list should be adjusted to suit your needs
clothes
Do the clothing countdown: If you need a mantra to help streamline your wardrobe, use the 5, 4, 3, 2, 1 rule for: Limit yourself to no more than five sets of socks and underwear, four tops, three bottoms, two pairs of shoes and one light warm layer. The list should be adjusted to suit your needs - I'm sure you want to throw in a nice evening dress.
A hat and sun glasses to help protect you from the Italian sun.
Key to Comfort - Comfortable walking shoes - no flip flops. (more on shoes below)
toiletries
I suggest minimizing your toiletries since liquids are heavy and you can purchase anything you need once in Europe. That said, here is a list of things you might want:
Shampoo/Conditioner/Body Wash: Pour liquids into these small travel-sized bottles because they won't leak.
Toothpaste & Toothbrush
Deodorant
Chapstick w/Sunscreen: Protect your lips
Body Powder: A lot of walking can equal chafing — especially in hot weather. Baby powder is great for those hot days.
Prescription Drugs: Ensure you have enough medicine to cover your trip since getting refills can be difficult.
Ziploc bags come in handy for storing multiple things and keeping liquids from spilling over all your stuff
Lay out what you think you'll need, then edit ruthlessly: Think twice about everything you want to put in your bag, Fully get rid of the 'just in case I need it' category. And if and when you need it, you can buy it.
Once you've packed, try walking around your neighborhood with it. Too heavy? Get rid of the kitchen sink!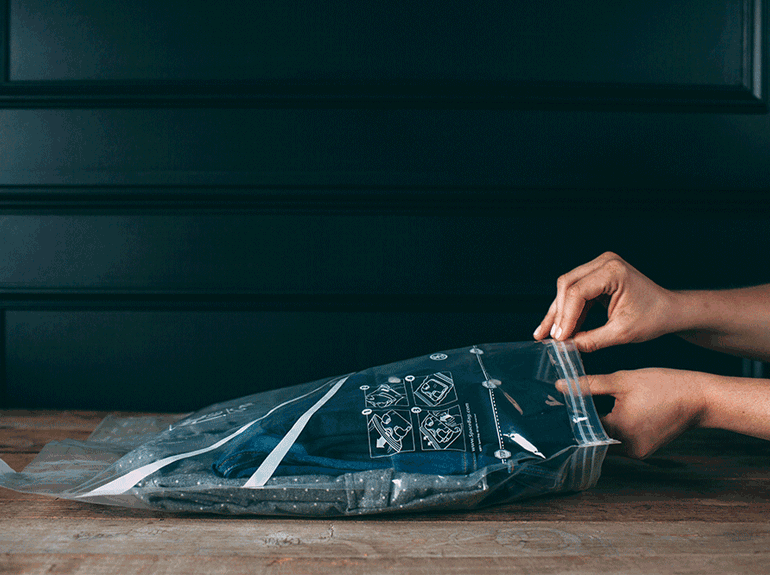 Life gets a little more complicated when you're living out of a bag - organizing is key! Behold the magical packing cubes or large zip lock bags.
They may not look like much but these simple travel accessories will make packing so much easier.
The idea behind packing cubes\zip lock bags is simple — you divide your clothing up between different cubes\bags (socks in one cube, underwear in another cube, etc.). This keeps all your clothes compressed and organized.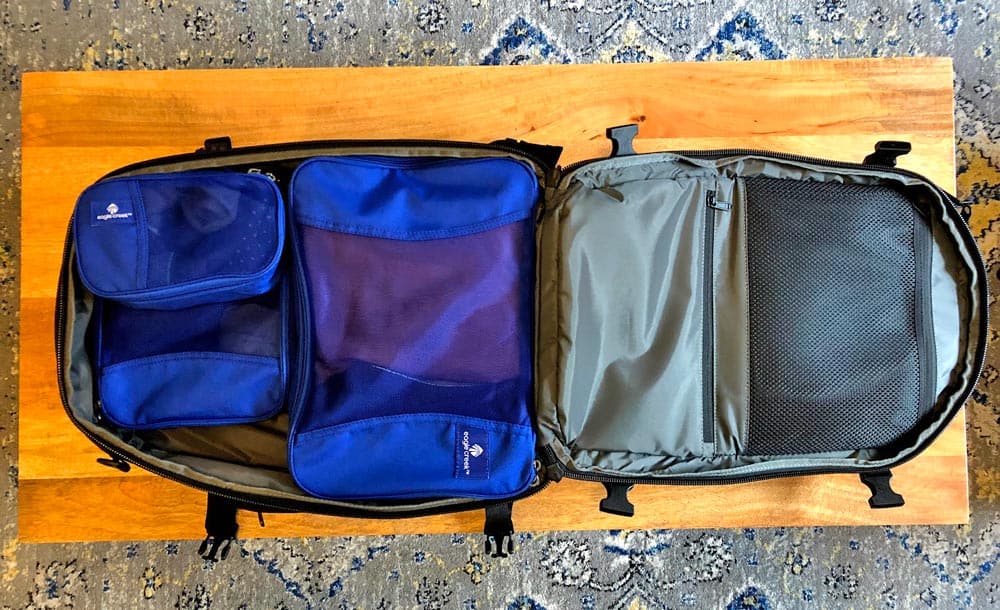 This way you can quickly grab what you need. And these make repacking all your stuff easy as well since you know where everything goes.
As an added bonus, packing cubes can also help reduce wrinkles by preventing your clothing from shifting around in your bag.
Avoid this type of packing - leads to frustration and loosing things.
Try rolling your clothes into the cube or zip bags to maximize space and help keep your clothes wrinkle free.
Shoes made for walking….and that's just what they'll do
Even if you ignore everything else on this packing list, the one thing you need when traveling Europe is a comfortable pair of shoes. Trust us — you're going to be on your feet way more than usual and your feet are going to take a beating. That's why you should put comfort over fashion — luckily there are plenty of fashionable and comfortable shoes on the market. So let's look at a few tips for ensuring your feet stay happy.
Comfort Is key
If new, break them in for at least 2 weeks prior to leaving
Two Pairs Max - one pair of sneakers and a pair of flats or sandals
Remember Italy has cobblestone streets - High heels don't work!
Electronics
IMPORTANT: North America and Europe use different voltages (120v vs 220v) for their electronics. So what does that mean for you? For high-end electronics like phones, cameras, laptops, iPads, etc… it doesn't matter. All you need is a plug adaptor because these electronics are all designed to work at multiple voltages. However, electronics with heating elements ands motors like hair dryers, curlers, straightening irons, hair clippers, etc. aren't designed for multiple voltages so they'll fry if you use them in Europe.
Additional items - But not necessary
ZIPLOC BAGS (MULTIPLE SIZES)
Plastic bags are a great way to store your dirty or wet socks/underwear so they don't get mixed with your clean clothes. I'll also put any liquids in a sealable bag in case of a leak. The large 3 gallon bags are nice for storing shoes so you don't get your clothes dirty.
COLLAPSIBLE WATER BOTTLE
Stay hydrated with a water bottle. A flexible water bottle is a great choice because it's light weight and can be rolled up when empty. And it is great for the environment.